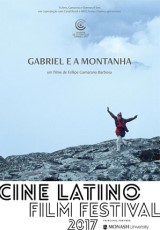 NOW SHOWING
LAT17 Gabriel and the Mountain
Director: Fellipe Barbosa
Cast: João Pedro Zappa, Caroline Abras & Alex Alembe
Duration: 127 mins
Rating: 15+
Release Date: 16 November, 2017

Based on the incredible true story of a Brazilian man who was found dead on a mountain on the border between Malawi and Mozambique, Gabriel and the Mountain is an existential meditation on discovery - and what it really means to be an explorer.
Director Fellipe Barbosa faithfully retraces the last seventy days of Gabriel's (João Pedro Zappa) life, as he mixes with locals in East Africa in an attempt to find his own meaning beyond the realm of otherness into which he has been cast. The reason behind Gabriel's compulsion to explore - and ultimately, his untimely death - is an unresolved mystery that the film seeks to comprehend. Many of the locals are played by people who met the real Gabriel Buchmann, resulting in a film that is a hybridisation of documentary and fiction - blending two formats into a single seamless production.
Shot on location in a myriad of African nations, Gabriel and the Mountain is ultimately a poignant reflection on tourism, asking whether a stranger in a foreign land can ever truly become a local.
Now Showing at
WINNER: Critics' Week Grand Prize, Cannes Film Festival 2017
WINNER: France 4 Visionary Award, Cannes Film Festival 2017
WINNER: Best Cinematography, Lima Latina American Film Festival 2017
"Barbosa and his actors do a beautiful job of investing audience emotions in the couple's relationship." - Variety
TIMES & TICKETS FOR 'LAT17 GABRIEL AND THE MOUNTAIN'
There are presently no session times scheduled for this film. Times for new release films are generally available from 12pm on the Tuesday prior to release. Please check back later.