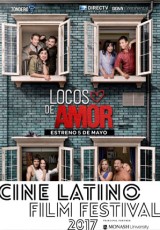 NOW SHOWING
LAT17 Crazy in Love
Director: Frank Pérez-Garland
Cast: Gianella Neyra, Jimena Lindo & Rossana Fernández Maldonado
Duration: 93 mins
Rating: 15+
Release Date: 16 November, 2017

Four cousins in their 40s face four romantic crises against the infectious, pulsating rhythms of Latin American song and dance featuring much loved classics from Camilo Sesto, Ana Gabriel, Flans, Raphael, Emmanuel, Mocedades, Miguel Bosé and Ricardo Montaner amongst others.
One is torn between her boyfriend and her best friend, two are married yet having doubts, and the last is enticed by the prospect of a fling with her attractive yoga teacher. Their heartfelt manifestations of both regret and happiness are expressed in the inimitable way of the musical.
An upbeat, energetic soundtrack of '70s, '80s and '90s Latin American pop music is strung together in sequences of joy. Audiences will delight in being caught up in this fun-loving film that refreshes the classical jukebox-musical format with oodles of comedic goodwill.
LOCOS DE AMOR (Crazy in Love) by Frank Pérez Garland - TRAILER from MEIKINCINE ENTERTAINMENT on Vimeo.
Now Showing at
"A great mix of comedy and drama, that features classic hits from Latin America"- El Comercio
TIMES & TICKETS FOR 'LAT17 CRAZY IN LOVE'
There are presently no session times scheduled for this film. Times for new release films are generally available from 12pm on the Tuesday prior to release. Please check back later.