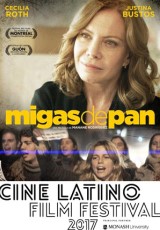 NOW SHOWING
LAT17 Breadcrumbs
Director: Manane Rodríguez
Cast: Cecilia Roth, Justina Bustos, Ignacio Cawen, Quique Fernández, Patxi Bisquert
Duration: 109 mins
Rating: 18+
Release Date: 16 November, 2017

The after-effects of the Latin American dictatorships of the '70s and '80s continue to be felt in Breadcrumbs. Director Manane Rodríguez focuses a cinematic lens on a woman by the name of Liliana (Cecilia Roth as the older Liliana, and Justina Bustos as her younger self).
At first, we are introduced to the older Liliana who has made the decision to return to Uruguay for the wedding of her estranged son, Diego (Ignacio Cawen). It isn't long before Liliana's troubled past as a politically active young person returns to haunt her.
Containing confronting scenes of the abuse of young Liliana, Breadcrumbs brings awareness to an often forgotten part of history, and the strength of the women who endured it in solidarity.
Now Showing at
Uruguayan submission for Best Foreign Language Film, Golden Globes 2016
Uruguayan submission for Best Foreign Language Film, Academy Awards 2017
OFFICIAL SELECTION: Gijón International Film Festival 2016
"A courageous film." - Cineuropa
TIMES & TICKETS FOR 'LAT17 BREADCRUMBS'
There are presently no session times scheduled for this film. Times for new release films are generally available from 12pm on the Tuesday prior to release. Please check back later.