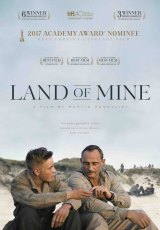 NOW SHOWING

Land Of Mine
Director: Martin Zandvliet
Cast: Roland Møller, Louis Hofmann, Joel Basman
Duration: 101 mins
Language: Danish with English Subtitles
Rating: MA15+
Release Date: 30 March, 2017

Based on extraordinary true events, writer/director Martin Zandvliet's multi award-winning historical drama tells a gripping story of redemption and forgivenesss, as it follows a group of captured soldiers in Denmark in the immediate aftermath of WWII.
After the Nazi surrender in May 1945, a unit of young Germans – most barely out of their teens – are put to work by their Allied captors. With minimal training, they're sent to locate and disarm Hitler's munitions that still litter the beaches along Denmark's west coast. But as the days advance, their supervisor (played by the superb Roland Møller, A Hijacking) an embittered Danish sergeant, grows more and more conflicted in his feelings towards his young charges, when compassion is the last thing his superiors wish to see extended…
Now Showing at
OSCAR NOMINATED | Academy Awards 2017
Best Foreign Language Film
TIMES & TICKETS FOR 'LAND OF MINE'
There are presently no session times scheduled for this film. Times for new release films are generally available from 12pm on the Tuesday prior to release. Please check back later.