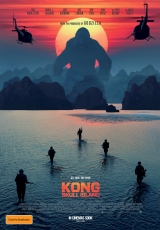 NOW SHOWING

Kong: Skull Island
Director: Jordan Vogt-Roberts
Cast: Brie Larson, Tom Hiddleston, Samuel L. Jackson
Duration: 118 mins
Language: English
Rating: M - Sustained threat, action violence and coarse language
Release Date: 9 March, 2017

KONG: SKULL ISLAND reimagines the origin of the mythic Kong in a compelling, original adventure from director Jordan Vogt-Roberts. In the film, a diverse team of explorers is brought together to venture deep into an uncharted island in the Pacific—as beautiful as it is treacherous—unaware that they're crossing into the domain of the mythic Kong.
Now Showing at
TIMES & TICKETS FOR 'KONG: SKULL ISLAND'
There are presently no session times scheduled for this film. Times for new release films are generally available from 12pm on the Tuesday prior to release. Please check back later.