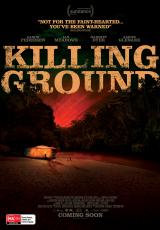 NOW SHOWING

Killing Ground
Director: Damien Power
Cast: Aaron Pedersen, Harriet Dyer, Ian Meadows, Aaron Glenane
Duration: 88 mins
Language: English
Rating: MA15+ - Strong themes, violence and coarse language
Release Date: 24 August, 2017

When young urbanites Ian and Sam decide to go camping, they arrive at their isolated destination to discover another tent already set up, but no sign of its owners. With the other campers at large, Ian and Sam's discovery of a child wandering alone sets off a terrifying chain of events that will push them to their limits – and beyond.
Now Showing at
TIMES & TICKETS FOR 'KILLING GROUND'
There are presently no session times scheduled for this film. Times for new release films are generally available from 12pm on the Tuesday prior to release. Please check back later.