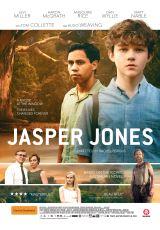 NOW SHOWING

Jasper Jones
Director: Rachel Perkins
Cast: Toni Collette, Hugo Weaving, Levi Miller, Angourie Rice, Dan Wyllie, Aaron McGrath
Duration: 105 mins
Language: English
Rating: M - Mature themes and coarse language
Release Date: 2 March, 2017

Adapted from Craig Silvey's bestselling Australian novel and featuring a stellar cast including Toni Collette, Hugo Weaving, Levi Miller, Angourie Rice, Dan Wyllie and Aaron McGrath, JASPER JONES is the story of Charlie Bucktin, a bookish boy of 14 living in a small town in Western Australia.
In the dead of night during the scorching summer of 1969, Charlie is startled when he is woken by local mixed-race outcast Jasper Jones outside his window. Jasper leads him deep into the forest and shows him something that will change his life forever, setting them both on a dangerous journey to solve a mystery that will consume the entire community.
In an isolated town where secrecy, gossip and tragedy overwhelm the landscape, Charlie faces family breakdown, finds his first love, and discovers what it means be truly courageous.
Now Showing at
Bound to please fans of the novel and thoroughly entertain those unfamiliar with the source material... Collette gives a riveting performance... Angourie Rice is spellbinding... hugely satisfying... WA's South West has never looked better on screen... masterful... beautiful.
-Ross McRae THE WEST AUSTRALIAN
TIMES & TICKETS FOR 'JASPER JONES'
There are presently no session times scheduled for this film. Times for new release films are generally available from 12pm on the Tuesday prior to release. Please check back later.