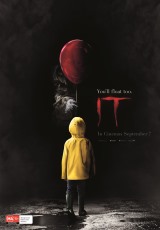 NOW SHOWING

IT
Director: Andy Muschietti
Cast: Bill Skarsgård, Jaeden Lieberher, Finn Wolfhard
Duration: 135 mins
Language: English
Rating: MA15+
Release Date: 7 September, 2017

New Line Cinema's horror thriller "IT," directed by Andy Muschietti ("Mama"), is based on the hugely popular Stephen King novel of the same name, which has been terrifying readers for decades. When children begin to disappear in the town of Derry, Maine, a group of young kids are faced with their biggest fears when they square off against an evil clown named Pennywise, whose history of murder and violence dates back for centuries.
Now Showing at
TIMES & TICKETS FOR 'IT'
There are presently no session times scheduled for this film. Times for new release films are generally available from 12pm on the Tuesday prior to release. Please check back later.