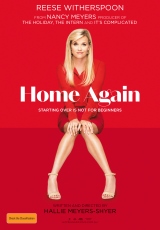 NOW SHOWING

Home Again
Director: David Gordon Green
Cast: Reese Witherspoon, Pico Alexander, Nat Wolff, Michael Sheen
Duration: 94 mins
Rating: M
Release Date: 19 October, 2017

Recently separated from her husband, (Michael Sheen), Alice decides to start over by moving back to her hometown of Los Angeles with her two young daughters. During a night out on her 40th birthday, Alice meets three aspiring filmmakers who happen to be in need of a place to live. Alice agrees to let the guys stay in her guest house temporarily, but the arrangement ends up unfolding in unexpected ways.
Now Showing at
TIMES & TICKETS FOR 'HOME AGAIN'
There are presently no session times scheduled for this film. Times for new release films are generally available from 12pm on the Tuesday prior to release. Please check back later.