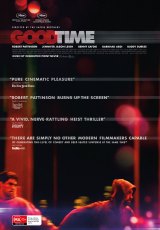 NOW SHOWING

Good Time
Director: Joshua Safdie, Ben Safdie
Cast: Robert Pattinson, Ben Safdie
Duration: 101
Language: English
Rating: MA15+
Release Date: 19 October, 2017

After a botched bank robbery lands his younger brother in prison, Constantine Nikas (Robert Pattinson) embarks on a twisted odyssey through New York City's underworld in an increasingly desperate-and dangerous-attempt to get his brother out of jail. Over the course of one adrenalized night, Constantine finds himself on a mad descent into violence and mayhem as he races against the clock to save his brother and himself, knowing their lives hang in the balance.
Now Showing at
TIMES & TICKETS FOR 'GOOD TIME'
There are presently no session times scheduled for this film. Times for new release films are generally available from 12pm on the Tuesday prior to release. Please check back later.