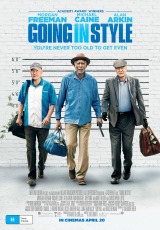 NOW SHOWING

Going in Style
Director: Zach Braff
Cast: Morgan Freeman, Michael Caine, Alan Arkin
Duration: 96 mins
Language: English
Rating: M - Coarse language
Release Date: 20 April, 2017

Oscar winners Morgan Freeman ("Million Dollar Baby"), Michael Caine ("The Cider House Rules," "Hannah and Her Sisters") and Alan Arkin ("Little Miss Sunshine") team up as lifelong buddies Willie, Joe and Al, who decide to buck retirement and step off the straight-and-narrow for the first time in their lives when their pension fund becomes a corporate casualty, in director Zach Braff's comedy GOING IN STYLE.
Desperate to pay the bills and come through for their loved ones, the three risk it all by embarking on a daring bid to knock off the very bank that absconded with their money.
Now Showing at
TIMES & TICKETS FOR 'GOING IN STYLE'
There are presently no session times scheduled for this film. Times for new release films are generally available from 12pm on the Tuesday prior to release. Please check back later.