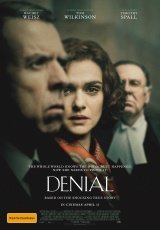 NOW SHOWING

Denial
Director: Mick Jackson
Cast: Rachel Weisz, Tom Wilkinson, Timothy Spall
Duration: 109
Language: English
Rating: M - Occasional coarse language
Release Date: 13 April, 2017

Based on the acclaimed book History on Trial: My Day in Court with a Holocaust Denier, DENIAL recounts Deborah E. Lipstadt's (Academy Award winner Rachel Weisz) legal battle for historical truth against David Irving (Cannes Award winner Timothy Spall).
In 1993, Deborah Lipstadt publishes a book called Denying the Holocaust, in which she refers to Irving as a denier. Soon after, he sues her for defamation under English law, where the burden of proof is on the accused. The whole world may know that the Holocaust happened, but now, Deborah and her legal team need to prove it. DENIAL is the inspirational story of one woman's fight for historical truth, and a timely reminder that the truth itself can withstand even the most aggressive and persistent falsification.
Now Showing at
TIMES & TICKETS FOR 'DENIAL'
There are presently no session times scheduled for this film. Times for new release films are generally available from 12pm on the Tuesday prior to release. Please check back later.