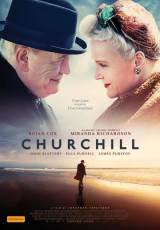 NOW SHOWING

Churchill
Director: Jonathan Teplitzky
Cast: Brian Cox, Miranda Richardson, John Slattery
Duration: 104 mins
Language: English
Rating: M - Mature themes
Release Date: 8 June, 2017

May 23rd, 1944: as tensions mount in the 48-hours preceding D-Day, the now-beleaguered Prime Minister Winston Churchill, played by Brian Cox (The Bourne Supremacy), must prepare a final attempt to crush Hitler's encroaching army.
With the entire War effort ultimately hinging on this decision, the stakes have never been higher. As the Wartime leader clashes with his generals, tension builds with the Americans, and Churchill must wrestle his inner-demons in order to navigate the Allies to victory.
Now Showing at
TIMES & TICKETS FOR 'CHURCHILL'
There are presently no session times scheduled for this film. Times for new release films are generally available from 12pm on the Tuesday prior to release. Please check back later.