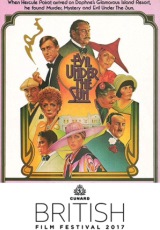 NOW SHOWING

BFF17 Evil Under The Sun
Director: Guy Hamilton
Cast: Peter Ustinov, Diana Rigg, Colin Blakely, Maggie Smith, Jane Birkin, Roddy McDowall
Duration: 117
Rating: PG
Release Date: 6 November, 2017

It's the late 1930s and – at a small, extremely expensive resort hotel in the Adriatic – no one could care less about Hitler or an era's imminent end. They're all too busy with their internal assaults on friendship, marriage, reputation, character and – when pushed to the limits – life itself.
Boredom is the enemy in this world. Style is everything; the weapon as well as a defence. The mots are delivered with the kind of elegance that only the rich, famous or heedless can affect with confidence. Come what may, everyone dresses for dinner at 8pm, including the gentleman whose wife, Arlena Marshall (Dame Diana Rigg), a rude and narcissistic retired stage star, was found on the beach in an untimely death earlier in the day.
Evil Under the Sun, the second Agatha Christie whodunit to star Peter Ustinov as the brilliant Belgian detective Hercule Poirot, finds the detective in dazzling Majorca, searching for Arlena's killer among the craggy cliffs, turquoise lagoons, formal gardens and secluded beaches; perfect spots to observe other people who think they're unobserved.
Now Showing at
NOMINATED: Best Film, Edgar Allan Poe Awards 1983

"As Poirot, Peter Ustinov creates a wonderful mixture of the mentally polished and physically maladroit." – Roger Ebert
TIMES & TICKETS FOR 'BFF17 EVIL UNDER THE SUN'
There are presently no session times scheduled for this film. Times for new release films are generally available from 12pm on the Tuesday prior to release. Please check back later.