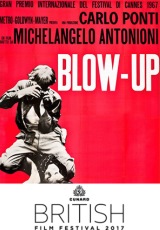 NOW SHOWING

BFF17 Blow-Up
Director: Michelangelo Antonioni
Cast: Vanessa Redgrave, David Hemmings, Jane Birkin, Peter Bowles, Sarah Miles, John Castle
Duration: 111
Rating: M
Release Date: 6 November, 2017

Winner of the Cannes Film Festival Palme d'Or in 1967, this London-set mystery and counter-cultural masterpiece is newly restored for its 50th anniversary.
Blow-up takes place over 24 hours in the life of Thomas (David Hemmings, Gladiator), a nihilistic, wealthy fashion photographer in swinging London. On the day in question, Thomas wanders into a park and sees, at a distance, a man and a woman. Are they struggling? Playing? Flirting? He snaps a lot of photos. The woman (Vanessa Redgrave, Julia) runs after him. She desperately wants the film back. He refuses her. Then, in the film's brilliant centrepiece, we observe as he blows up his photos and discovers that he may have photographed a murder.
Whether there is or isn't a murder, the mystery at the heart of the film underpins the most sordid of desires – our need to spy – and how our obsession with new technology can shape and warp reality. It was Italian director Michelangelo Antonioni's first English-language production and is widely considered one of the seminal films of the 1960s.
Now Showing at
WINNER: Palme d'Or, Cannes Film Festival 1967
NOMINATED: Best Director, Best Original Screenplay, Academy Awards 1967
"It is vintage Antonioni fortified with a Hitchcock twist." – The New York Times
"If you've never seen Blow-Up, see it now." – New York Observer
TIMES & TICKETS FOR 'BFF17 BLOW-UP'
There are presently no session times scheduled for this film. Times for new release films are generally available from 12pm on the Tuesday prior to release. Please check back later.