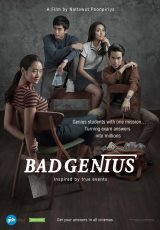 NOW SHOWING

Bad Genius
Director: Nattawut Poonpiriya
Cast: Chutimon Chuengcharoensukying, Eisaya Hosuwan, Teeradon Supapunpinyo
Duration: 130 mins
Rating: M
Release Date: 2 November, 2017

Lynn, a genius high school student who makes money by cheating tests, receives a new task that leads her to set foot on Sydney, Australia. In order to complete the millions-Baht task, Lynn and her classmates have to finish the international STIC(SAT) exam and deliver the answers back to her friends in Thailand before the exam takes place once again in her home country.
Now Showing at
TIMES & TICKETS FOR 'BAD GENIUS'
There are presently no session times scheduled for this film. Times for new release films are generally available from 12pm on the Tuesday prior to release. Please check back later.