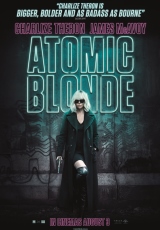 NOW SHOWING

Atomic Blonde
Director: David Leitch
Cast: Sofia Boutella, Charlize Theron, James McAvoy
Duration: 115 mins
Language: English
Rating: MA15+ - Strong violence, coarse language and sex scene
Release Date: 3 August, 2017

A high-stakes, global action-thriller that takes place in the city of Berlin, on the eve of the Wall's collapse and the shifting of superpower alliances. Charlize Theron ("Mad Max: Fury Road") portrays Lorraine Broughton, a top-level spy for MI6, who is dispatched to Berlin to take down a ruthless espionage ring that has just killed an undercover agent for reasons unknown.
She is ordered to cooperate with Berlin station chief David Percival (James McAvoy of "X-Men"), and the two form an uneasy alliance, unleashing their full arsenal of skills in pursuing a threat that jeopardizes the West's entire intelligence operation.
Now Showing at
TIMES & TICKETS FOR 'ATOMIC BLONDE'
There are presently no session times scheduled for this film. Times for new release films are generally available from 12pm on the Tuesday prior to release. Please check back later.