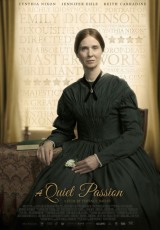 NOW SHOWING

A Quiet Passion
Director: Terence Davies
Cast: Cynthia Nixon, Jennifer Ehle, Keith Carradine
Language: English
Rating: PG - Mild themes
Release Date: 22 June, 2017

Cynthia Nixon delivers a triumphant performance as Emily Dickinson as she personifies the wit, intellectual independence and pathos of the poet whose genius only came to be recognized after her death. Acclaimed British director Terence Davies (The House of Mirth, Distant Voices Still Lives) exquisitely evokes Dickinson's deep attachment to her close knit family along with the manners, mores and spiritual convictions of her time that she struggled with and transcended in her poetry.
Now Showing at
TIMES & TICKETS FOR 'A QUIET PASSION'
There are presently no session times scheduled for this film. Times for new release films are generally available from 12pm on the Tuesday prior to release. Please check back later.