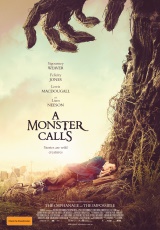 NOW SHOWING

A Monster Calls
Director: J.A. Bayona
Cast: Lewis MacDougall, Sigourney Weaver, Felicity Jones
Duration: 108 mins
Language: English
Rating: PG - Mild themes and violence, some scenes may scare children
Release Date: 27 July, 2017

A visually spectacular drama from director J.A. Bayona (The Impossible). A MONSTER CALLS follows 12-year-old Conor (Lewis MacDougall) who while dealing with his mother's (Felicity Jones) illness, a less-than-sympathetic grandmother (Sigourney Weaver), and bullying classmates, finds a most unlikely ally when a Monster appears at his bedroom window.
Ancient, wild, and relentless, the Monster guides Conor on a journey of courage, faith, and truth. The monster does not come walking often. This time it comes to Conor, and it asks for the one thing Conor cannot bring himself to do. Tell the truth.
Now Showing at
TIMES & TICKETS FOR 'A MONSTER CALLS'
There are presently no session times scheduled for this film. Times for new release films are generally available from 12pm on the Tuesday prior to release. Please check back later.