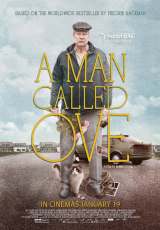 NOW SHOWING

A Man Called Ove
Director: Hannes Holm
Cast: Rolf Lassgård, Bahar Pars, Filip Berg
Duration: 116
Language: Swedish
Rating: M
Release Date: 30 March, 2017

Stepping from the pages of Fredrik Backman's international best-selling novel, Ove is the quintessential angry old man next door. An isolated retiree with strict principles and a short fuse, who spends his days enforcing block association rules that only he cares about, and visiting his wife's grave, Ove has given up on life.
Enter a boisterous young family next door who accidentally flattens Ove's mailbox while moving in and earning his special brand of ire. Yet from this inauspicious beginning an unlikely friendship forms and we come to understand Ove's past happiness and heartbreaks. What emerges is a heartwarming tale of unreliable first impressions and the gentle reminder that life is sweeter when it's shared.
Now Showing at
TIMES & TICKETS FOR 'A MAN CALLED OVE'
There are presently no session times scheduled for this film. Times for new release films are generally available from 12pm on the Tuesday prior to release. Please check back later.