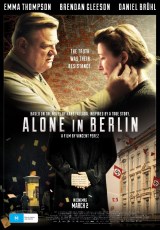 NOW SHOWING

Alone in Berlin
Director: Vincent Perez
Cast: Emma Thompson, Daniel Brühl, Brendan Gleeson
Duration: 103 mins
Language: English
Rating: M - Mature themes and violence
Release Date: 2 March, 2017

Based on the international best-seller by Hans Fallada Every Man Dies Alone, ALONE IN BERLIN shines the light on two ordinary German people who made an extraordinary impact.
Berlin, 1940. Working class couple Otto and Anna Quangel (Brendan Gleeson and Emma Thompson) receive the news that their only son has been killed on the battlefield. Already disillusioned with The Führer and The Fatherland, the loss of their son proves the tipping point and Otto begins a campaign of civil disobedience, writing messages on postcards that urge fellow Germans to resist the Nazi regime.
Now Showing at
TIMES & TICKETS FOR 'ALONE IN BERLIN'
There are presently no session times scheduled for this film. Times for new release films are generally available from 12pm on the Tuesday prior to release. Please check back later.