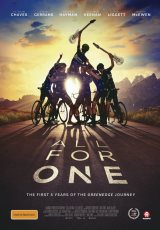 NOW SHOWING

All For One
Director: Marcus Cobbledick & Dan Jones
Cast: Phil Liggett, Matthew Hayman, Esteban Chaves
Duration: 100 mins
Language: English
Rating: CTC
Release Date: 24 August, 2017

Limited Season August 24 - 30
United by their renegade spirit and a determination to win against substantial odds, these riders take on the international circuit. The film offers unique insights into the first five years of their journey, bearing witness to the ethos of the team as embodied by all - from the strongest to most embattled members. Out of a culture that embraces a deeply human approach to sport, unlikely champions are born, and seemingly improbable team and personal goals are achieved.
Now Showing at
TIMES & TICKETS FOR 'ALL FOR ONE'
There are presently no session times scheduled for this film. Times for new release films are generally available from 12pm on the Tuesday prior to release. Please check back later.