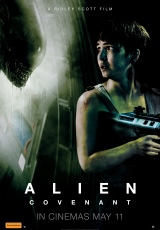 NOW SHOWING

Alien: Covenant
Director: Ridley Scott
Cast: Michael Fassbender, Katherine Waterston, James Franco
Language: English
Rating: MA15+
Release Date: 11 May, 2017

Bound for a remote planet on the far side of the galaxy, the crew of the colony ship Covenant discover what they think is an uncharted paradise, but is actually a dark, dangerous world, whose sole inhabitant is the synthetic David, survivor of the doomed Prometheus expedition.
Now Showing at
TIMES & TICKETS FOR 'ALIEN: COVENANT'
There are presently no session times scheduled for this film. Times for new release films are generally available from 12pm on the Tuesday prior to release. Please check back later.