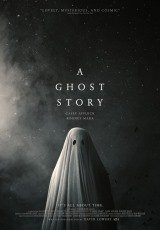 NOW SHOWING

A Ghost Story
Director: David Lowery
Cast: Rooney Mara, Sonia Acevedo, Casey Affleck, Carlos Bermudez
Duration: 90 mins
Language: English
Rating: M - Mature themes and occasional coarse language
Release Date: 27 July, 2017

With A GHOST STORY, acclaimed director David Lowery returns with a singular exploration of legacy, loss, and the essential human longing for meaning and connection.
Recently deceased, a white-sheeted ghost (Academy Award-winner Casey Affleck) returns to his suburban home to console his bereft wife (Academy Award-nominee Rooney Mara), only to find that in his spectral state he has become unstuck in time.
An unforgettable meditation on love and grief, A GHOST STORY emerges ecstatic and surreal - a wholly unique experience that lingers long after the credits roll.
Now Showing at
A poetic meditation on time, memory and spiritual connection that is utterly true to its title.
- David Rooney, HOLLYWOOD REPORTER
TIMES & TICKETS FOR 'A GHOST STORY'
There are presently no session times scheduled for this film. Times for new release films are generally available from 12pm on the Tuesday prior to release. Please check back later.