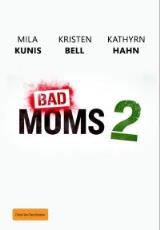 NOW SHOWING

Bad Moms 2
Director: Jon Lucas, Scott Moore
Cast: Kristen Bell, Mila Kunis, Susan Sarandon
Duration: 104 mins
Language: English
Rating: MA15+
Release Date: 2 November, 2017

BAD MOMS 2 follows our three under-appreciated and over-burdened women as they rebel against the challenges and expectations of the Super Bowl for moms: Christmas. And if creating a more perfect holiday for their families wasn't hard enough, they have to do all of that while hosting and entertaining their own mothers. By the end of the journey, our moms will redefine how to make the holidays special for all and discover a closer relationship with their mothers.
Now Showing at
TIMES & TICKETS FOR 'BAD MOMS 2'
There are presently no session times scheduled for this film. Times for new release films are generally available from 12pm on the Tuesday prior to release. Please check back later.