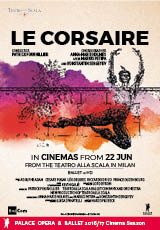 LA SCALA & ALL'OPERA ITALIANA
Palace Opera & Ballet presents new-season productions - direct from Italy!
Opera di Roma: CARMEN (Bizet)
11.30am Sun 19 & Wed 22 November
Captured live over the European summer from the most evocative stage in the world, amidst the impressive ruins at the Baths of Caracalla, this colourful new production from exciting Latin director Valentina Carrasco of La Fura dels Baus, sets Bizet's masterful tale of the explosive, passionate, and destructive love of a woman who values her freedom above all else not in 19th Century Spain, but on the border between Mexico and the United States, where President Trump has earmarked his famous wall. The star cast is led by acclaimed Italian mezzo-soprano Veronica Simeoni.
Sung in French with English subtitles.
Captured live from Terme di Caracalla, Rome, 24 May 2016.
La Scala: ANDREA CHÉNIER (Giordano)
11.30am Sun 25 & Wed 28 February
Your invitation to the star-studded gala opening of the La Scala season, with Mario Martone's new staging of Giordano's verismo masterpiece. First baptized at La Scala in 1896, this tale of liberty and love in the French revolution hasn't been on the famous stage in over 30 years! Maestro Riccardo Chailly will conduct Anna Netrebko in her role debut as Maddalena, alongside her husband Yusif Eyvazov as the titular poet.
Sung in Italian, with English subtitles.
Captured live from Teatro alla Scala, Milan, 7 Dec 2017.
Teatro Comunale: LA BOHÈME (Puccini)
11.30am Sun 18 & Wed 21 March
Set in 19th century Paris, Puccini's beloved opera charts the love a air between a poor poet Rodolfo (Sardinian tenor Francesco Demuro) and a seamstress Mimì (Italian soprano Mariangela Sicilia, who starred in this role for Opera Australia in 2017) whose relationship is tested by the cruel realities of poverty and ill health. Graham Vick's new production is conducted by Michele Mariotti, Teatro Comunale's exciting Musical Director.
Sung in Italian, with English subtitles.
Opera di Roma: LA TRAVIATA (Verdi)
11.30am Sun 22 & Wed 25 April
Special Presentation! For the first time in Australia, experience Oscar-winning filmmaker Sofia Coppola's sumptuous opera directorial debut. Created in collaboration with Italian haute couture designer Valentino and Hollywood production designer Nathan Crowley, her La Traviata was a sensation in Rome in 2016, with a sold-out season of 15 performances! Soprano Francesca Dotto stars as the tragic courtesan Violetta Valéry who sacrifices all for love. Alongside her, the tenor Antonio Poli as Alfredo and Roberto Frontali as Giorgio, his valiant father, beg for her pardon.
Sung in Italian, with English subtitles.
Captured live from Teatro Costanzi, Rome, 24 May 2016.
La Scala: DON PASQUALE (Donizetti)
11.30am Sun 3 & Wed 5 June
Riccardo Chailly's journey through the Italian repertoire, which in 2017 brought back Rossini's The Thieving Magpie, continues with Donizetti's first title Don Pasquale. Davide Livermore's new production will see Ambrose Maestri, the Falstaff par excellence of these years, take on the title role, another figure suspended between comedy and melancholy with the disillusion of time. With him, Rosa Feola, as Norina.
Sung in Italian, with English subtitles.
Captured live from Teatro alla Scala, Milan, 19 Apr 2018.
La Scala Ballet: LE CORSAIRE (Adam)
11.30am Sun 24 & Wed 27 June
Acclaimed Canadian choreographer Anna-Maria Holmes's exhilarating production, seen at the American Ballet Theatre and English National Ballet, invades the stage at La Scala with new sets and costumes by Luisa Spinatelli. Filled with action, passion and romance, this swashbuckling comedy follows a dashing pirate, Conrad, as he journeys across the high seas to save his beautiful harem girl Medora. An exotic, breathtaking spectacle.
Captured live from Teatro alla Scala, Milan, 16 May 2018.
Opera di Roma: BILLY BUDD (Britten)
11.30am Sun 5 & Wed 8 August
Based on the novel by Herman Melville, Benjamin Britten's gripping contemporary opera was first performed at the Royal Opera House on 1951. Setting sail for the first time in Rome this season, this hugely acclaimed new staging by renowned British director Deborah Warner is a co-production with the Teatro Real of Madrid, the Opéra National de Paris and the Finnish National Opera. Conducted by American James Conlon, and featuring South African baritone Jacques Imbrailo as Billy, Britain's Toby Spence as Captain Vere and Canadian John Relyea as the villainous Claggart, this is a truly international collaboration and a thrilling experience.
Sung in English.
Captured live from Teatro Costanzi, Rome, 5 June 2018.
Discover the full season, and register for email updates at: www.PalaceOperaAndBallet.com.au
LA SCALA & OPERA D'ITALIA
24 June, 2018
5 August, 2018
UPCOMING LA SCALA & OPERA D'ITALIA PRODUCTIONS