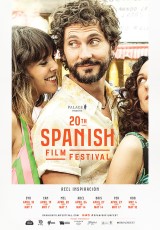 FILM FESTIVAL NOW SHOWING
Spanish Film Festival 2017
Festival Dates: 26 April, 2017 - 14 May, 2017
Participating Cinemas: Palace Nova Eastend
TICKETS ON SALE NOW
Palace Nova Cinemas welcomes back the Spanish Film Festival, 26 April – 14 May 2017. This year hosts a specially selected program of films and events celebrating all things Spanish for the festivals 20th edition.
The festival will kick off with the sexy and daring Spanish box office hit KIKI, LOVE TO LOVE (KIKI, EL AMOR SE HACE). The third film from director Paco León, this hilarious and complex comedy explores love, sex and marriage through five interwoven stories taking place over a long hot summer in Madrid. With León's work drawing parallels from critics to that of acclaimed Spanish auteur Pedro Almodóvar – this is a colourful and fun opening night film will be followed by a party, catering and dancing.
At Palace Nova Cinemas from April 26 – May 14
FESTIVAL EVENTS
OPENING NIGHT FIESTA
Join us for Paco Leon's kinky comedy KIKI, LOVE TO LOVE with Freixenet Cava on arrival and premiere screening followed by an afterparty featuring Torres Wines, Stella Beer, tapas and live entertainment.
Wednesday 26 April
6:30pm Welcome drink on arrival
7:00pm Film Start and Fiesta
Palace Movie Club Members $50
General Admission $55
SPECIAL EVENT: THE QUEEN OF SPAIN
Presented by Lolea Sangria
Enjoy a refreshing Lolea Sangria and travel to 1950's Spain with Penélope Cruz in Fernando Trueba's hilarious and ravishing THE QUEEN OF SPAIN.
Wednesday 3 May
7:15pm Lolea Sangria on arrival
8:00pm Screening
Palace Movie Club Members $24
General Admission $28
CLOSING NIGHT EVENT
Go on the road again with THE TRIP TO SPAIN, the third instalment of this hugely popular series and celebrate Closing night with Torres Wines and Stella Beer.
Sunday 14 May
6:45pm Welcome Drink on arrival
7:00pm Film Start
Palace Movie Club Members $20
General Admission $25
COMPLETE FESTIVAL LINEUP
KIKI, LOVE TO LOVE
SUMMER 1993
THE TRIP TO SPAIN
THE QUEEN OF SPAIN
SARA BARAS, ALL HER VOICES
REEL FLAMENCO
13. MIGUEL POVEDA
JOTA: BEYOND FLAMENCO
FLIGHT OF THE GUITAR. DREAMING OF PACO DE LUCÍA
REEL ESPANOL
1898, OUR LAST MEN IN THE PHILIPPINES
A STROKE OF LUCK
AT YOUR DOORSTEP
THE BAR
BOSCH, THE GARDEN OF DREAMS
BOY MISSING
THE DISTINGUISHED CITIZEN
ESCAPE PLAN
THE EXILE
THE FURY OF A PATIENT MAN
HEROES WANTED
THE INVISIBLE GUEST
MAY GOD SAVE US
OUT OF DARKNESS
THE RECONQUEST
SASHA
SMOKE & MIRRORS
SPAIN IN A DAY
THE ONE-EYED KING
THE TIP OF THE ICEBERG
TO STEAL FROM A THIEF
UNCERTAIN GLORY
WE NEED TO TALK
REEL RETROSPECTIVA
DEMONS IN THE GARDEN
THE HOUSE OF BERNARDA ALBA
TORMENT
SPECIAL SCREENINGS
FROM ROSENDO TO ROSENDO
BROKEN
REEL INFANTIL
OZZY
ZIP & ZAP AND THE CAPTAIN'S ISLAND
REEL SHORT
SLEEPOVER
Booking Information:
For more information, and to stay in the know, visit the official festival website, like them on Facebook and follow them on Twitter.
OTHER FILM FESTIVALS
There are no other festivals found for your state, please contact our webmaster if you believe this is an error.