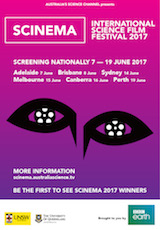 FILM FESTIVAL NOW SHOWING
SCINEMA International Science Film Festival 2017
Festival Date: 7 June, 2017
Participating Cinemas: Palace Nova Eastend
See award winning films from SCINEMA International Science Film Festival 2017 on the big screen
presented by Australia's Science Channel.

SCINEMA International Science Film Festival is the largest science film festival in the southern hemisphere; celebrating the power of moving image to tell stories about the world, how it works and our place in it. Now in its 14th year, SCINEMA will showcase science features, shorts, documentaries, animated and experimental films from filmmakers around the world and premieres in major cities across Australia, starting in Adelaide at Palace Nova Cinemas on June 7.
At Palace Nova Cinemas June 7
Booking Information:
For more information, and to stay in the know, visit the official festival website or like them on Facebook.
OTHER FILM FESTIVALS
There are no other festivals found for your state, please contact our webmaster if you believe this is an error.