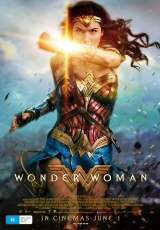 NOW SHOWING

Wonder Woman
Director: Patty Jenkins
Cast: Gal Gadot, Robin Wright, Chris Pine
Language: English
Rating: M
Release Date: 1 June, 2017

WONDER WOMAN hits movie theaters around the world next June when Gal Gadot returns as the title character in the epic action adventure from director Patty Jenkins (Monster, The Killing).
Before she was Wonder Woman, she was Diana, princess of the Amazons, trained to be an unconquerable warrior. Raised on a sheltered island paradise, when an American pilot crashes on their shores and tells of a massive conflict raging in the outside world, Diana leaves her home, convinced she can stop the threat. Fighting alongside man in a war to end all wars, Diana will discover her full powers…and her true destiny.
Joining Gadot in the international cast are Chris Pine (Star Trek), Connie Nielsen (The Following,Gladiator), Robin Wright (The Girl with the Dragon Tattoo, House of Cards), David Thewlis (Harry Potter, The Theory of Everything) and Danny Huston (Clash of the Titans, X-Men Origins: Wolverine)
Now Showing at
TIMES & TICKETS FOR 'WONDER WOMAN'
There are presently no session times scheduled for this film. Times for new release films are generally available from 12pm on the Tuesday prior to release. Please check back later.