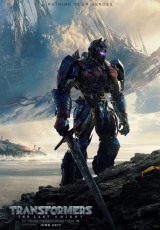 NOW SHOWING

Transformers: The Last Knight
Director: Michael Bay
Cast: Gemma Chan, Mark Wahlberg, Isabela Moner
Duration: 149 mins
Language: English
Rating: M - Action violence and coarse language
Release Date: 22 June, 2017

Humans and Transformers are at war, Optimus Prime is gone. The key to saving our future lies buried in the secrets of the past, in the hidden history of Transformers on Earth.
Now Showing at
TIMES & TICKETS FOR 'TRANSFORMERS: THE LAST KNIGHT'
There are presently no session times scheduled for this film. Times for new release films are generally available from 12pm on the Tuesday prior to release. Please check back later.