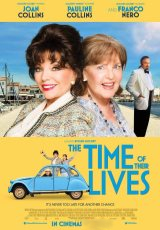 NOW SHOWING

The Time of Their Lives
Director: Roger Goldby
Cast: Joan Collins, Pauline Collins, Franco Nero
Duration: 104 mins
Language: English
Rating: M - Coarse language and brief nudity
Release Date: 10 August, 2017

Determined to gate-crash her ex-lover's funeral on the glamorous French hideaway of Îe-de-Ré, former Hollywood siren Helen (Joan Collins) escapes her London retirement home with the help of Priscilla (Pauline Collins), a repressed English housewife stuck in a dwindling marriage.
Pooling their limited resources, they hit the road in a race to get to Île-de-Ré, becoming entangled in a love triangle with a reclusive Italian millionaire (Franco Nero) along the way. On this unforgettable journey, they find true friendship in one another – and have THE TIME OF THEIR LIVES.
Now Showing at
TIMES & TICKETS FOR 'THE TIME OF THEIR LIVES'
There are presently no session times scheduled for this film. Times for new release films are generally available from 12pm on the Tuesday prior to release. Please check back later.