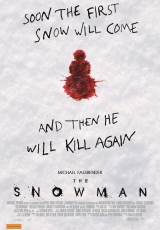 NOW SHOWING

The Snowman
Director: Thomas Alfredsoni
Cast: Michael Fassbender, Rebecca Ferguson, Chloe Sevigny
Duration: 119 mins
Language: English
Rating: MA15+
Release Date: 19 October, 2017

When an elite crime squad's lead detective (Michael Fassbender) investigates the disappearance of a victim on the first snow of winter, he fears an elusive serial killer may be active again. With the help of a brilliant recruit (Rebecca Ferguson), the cop must connect decades-old cold cases to the brutal new one if he hopes to outwit this unthinkable evil before the next snowfall.
Now Showing at
TIMES & TICKETS FOR 'THE SNOWMAN'
There are presently no session times scheduled for this film. Times for new release films are generally available from 12pm on the Tuesday prior to release. Please check back later.