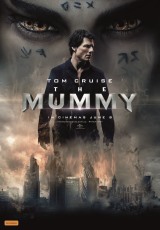 NOW SHOWING

The Mummy
Director: Alex Kurtzman
Cast: Sofia Boutella, Tom Cruise, Annabelle Wallis
Language: English
Rating: M - Supernatural themes, violence and sustained threat
Release Date: 8 June, 2017

Tom Cruise headlines a spectacular, all-new cinematic version of the legend that has fascinated cultures all over the world since the dawn of civilization: THE MUMMY.
Thought safely entombed in a tomb deep beneath the unforgiving desert, an ancient princess (Sofia Boutella) whose destiny was unjustly taken from her is awakened in our current day, bringing with her malevolence grown over millennia and terrors that defy human comprehension.
Cruise is joined by a cast including Annabelle Wallis (King Arthur: The Legend of the Sword), Jake Johnson (Jurassic World), Courtney B. Vance (American Crime Story: The People V. O.J. Simpson) and Oscar® winner Russell Crowe (Gladiator).
Now Showing at
TIMES & TICKETS FOR 'THE MUMMY'
There are presently no session times scheduled for this film. Times for new release films are generally available from 12pm on the Tuesday prior to release. Please check back later.