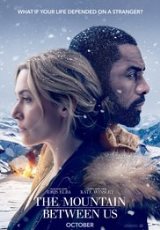 NOW SHOWING

The Mountain Between Us
Director: Hany Abu - Assad
Cast: Idris Elba, Kate Winslet, Dermout Mulorney
Duration: 111 Mins
Rating: M
Release Date: 12 October, 2017

Stranded after a tragic plane crash, two strangers must forge a connection to survive the extreme elements of a remote snow covered mountain. When they realize help is not coming, they embark on a perilous journey across the wilderness.
Now Showing at
TIMES & TICKETS FOR 'THE MOUNTAIN BETWEEN US'
There are presently no session times scheduled for this film. Times for new release films are generally available from 12pm on the Tuesday prior to release. Please check back later.