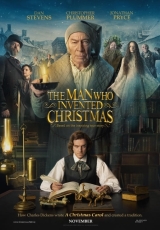 NOW SHOWING

The Man Who Invented Christmas
Director: Bharat Nalluri
Cast: Dan Stevens, Christopher Plummer, Jonathan Pryce
Duration: TBC
Rating: CTC
Release Date: 30 November, 2017

The journey that led to the creation of Ebenezer Scrooge (Christopher Plummer) and other classic characters from "A Christmas Carol." The film shows how Charles Dickens (Dan Stevens) conjured up a timeless tale.
Now Showing at
TIMES & TICKETS FOR 'THE MAN WHO INVENTED CHRISTMAS'
There are presently no session times scheduled for this film. Times for new release films are generally available from 12pm on the Tuesday prior to release. Please check back later.