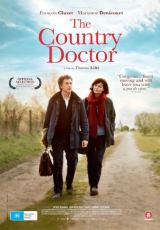 NOW SHOWING

The Country Doctor
Director: Thomas Lilti
Cast: François Cluzet, Marianne Denicourt, Christophe Odent
Language: French with English subtitles
Rating: M
Release Date: 18 May, 2017

François Cluzet (The Intouchables) is Jean-Pierre, a much-loved doctor in a rural French town. He reassures and cares for his patients day and night, seven days a week. When he becomes sick himself, he keeps this a secret, but soon realises that he needs to find someone to take over his practice. A younger city doctor, Nathalie (Marianne Denicourt), is introduced as the new medic - will she adapt to this new life and take over from the man who thought he was irreplaceable?
A huge success in France, this new film from Thomas Lilti (Hippocrates) was warmly embraced by audiences for its generosity of spirit and gentle humour. With exceptional performances from François Cluzet and Marianne Denicourt, THE COUNTRY DOCTOR is a touching celebration of life
Now Showing at
TIMES & TICKETS FOR 'THE COUNTRY DOCTOR'
There are presently no session times scheduled for this film. Times for new release films are generally available from 12pm on the Tuesday prior to release. Please check back later.