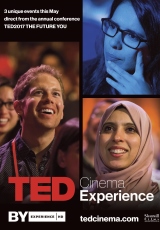 NOW SHOWING

TED2017: The Future You - OPENING EVENT
Rating: CTC
Release Date: 3 May, 2017

Limited Season - May 3
More TED2017: The Future You Series
The Opening Event of TED2017 will present cinema audiences a one-of-a-kind opportunity to experience the conference with their communities as new TED Talks are presented for the first time in front of 1,500 TED attendees, representing the world's leading thinkers and doers in Vancouver, Canada.
For the second consecutive year, cinema audiences will get this exclusive look inside the opening night of TED and experience revelatory talks and performances as they unfold on the TED stage.
SPEAKERS
HUANG YI dancer and choreographer
LAURA GALANTE cyberspace analyst
TIM FERRISS productivity guru, author
JOSHUA ROMAN cellist
TITUS KAPHAR artist
OK GO band
ANAB JAIN futurist, designer
GARRY KASPAROV grandmaster, analyst
RABBI LORD JONATHAN SACKS religious leader
Now Showing at
TIMES & TICKETS FOR 'TED2017: THE FUTURE YOU - OPENING EVENT'
There are presently no session times scheduled for this film. Times for new release films are generally available from 12pm on the Tuesday prior to release. Please check back later.