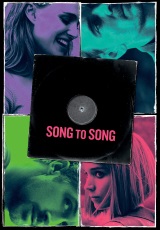 NOW SHOWING

Song to Song
Director: Terrence Malick
Cast: Ryan Gossling, Natalie Portman, Michael Fassbender, Rooney Mara
Duration: 128 mins
Language: English
Rating: M - Mature themes, sex scenes, coarse language, drug use and nudity
Release Date: 5 October, 2017

In this modern love story set against the Austin, Texas music scene, two entangled couples--struggling songwriters Faye (Rooney Mara) and BV (Ryan Gosling), and music mogul Cook (Michael Fassbender) and the waitress whom he ensnares (Natalie Portman)--chase success through a rock 'n' roll landscape of seduction and betrayal.
Now Showing at
TIMES & TICKETS FOR 'SONG TO SONG'
There are presently no session times scheduled for this film. Times for new release films are generally available from 12pm on the Tuesday prior to release. Please check back later.