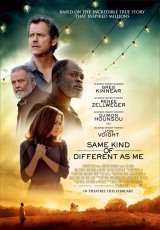 NOW SHOWING

Same Kind of Different as Me
Director: Michael Carney
Cast: Renée Zellweger, Jon Voight, Djimon Hounsou
Language: English
Rating: CTC
Release Date: 4 May, 2017

International art dealer Ron Hall must befriend a dangerous homeless man in order to save his struggling marriage to his wife, a woman whose dreams will lead all three of them on the journey of their lives.
Now Showing at
TIMES & TICKETS FOR 'SAME KIND OF DIFFERENT AS ME'
There are presently no session times scheduled for this film. Times for new release films are generally available from 12pm on the Tuesday prior to release. Please check back later.