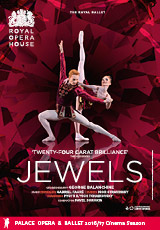 NOW SHOWING

Royal Ballet: JEWELS
Rating: CTC
Release Date: 21 May, 2017

Limited Season - May 21 & 24
More Palace Opera & Ballet Season
George Balanchine's evocation of the sparkle of gemstones is a brilliant ballet classic.
The French Romantic music of Fauré provides the impetus for the subtlety and lyricism of Emeralds, while the fire of Rubies comes from Stravinsky and the jazz-age energy of New York. Grandeur and elegance complete the ballet with the splendour of Imperial Russia and the peerless music of Tchaikovsky in Diamonds.
Jewels is a masterclass in the many luminous facets of classical ballet and indeed of The Royal Ballet itself: the virtuoso choreography of Balanchine, the intensity of the soloists and the precision of the entire Company.
Conductor: Pavel Sorokin
Orchestra: Orchestra of the Royal Opera House
Cast: (Emeralds) Beatriz Stix-Brunell, Laura Morera, Valeri Hristov, Ryoichi Hirano, (Rubies) Melissa Hamilton, Sarah Lamb, Steven McRae, (Diamonds) Marianela Nuñez, Thiago Soares
Music: Gabriel Fauré, Igor Stravinsky & Pyotr Il'yich Tchaikovsky
Choreography: George Balanchine
Designs: Jean-Marc Puissant
Now Showing at
TIMES & TICKETS FOR 'ROYAL BALLET: JEWELS'
There are presently no session times scheduled for this film. Times for new release films are generally available from 12pm on the Tuesday prior to release. Please check back later.