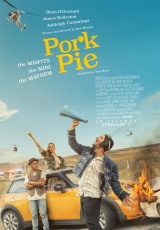 NOW SHOWING

Pork Pie
Director: Matt Murphy
Cast: Dean O'Gorman, James Rolleston, Ashleigh Cummings
Duration: 105 mins
Language: English
Rating: M - Mature themes, violence, sex, drug use and coarse language
Release Date: 4 May, 2017

PORK PIE tracks the escapades of a trio of accidental outlaws as they travel the length of the New Zealand in a yellow mini, protesting conformity and chasing lost love, with a posse of cops and a media frenzy hot in their pursuit.
Now Showing at
TIMES & TICKETS FOR 'PORK PIE'
There are presently no session times scheduled for this film. Times for new release films are generally available from 12pm on the Tuesday prior to release. Please check back later.