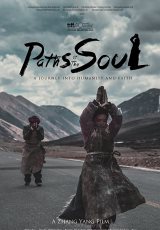 NOW SHOWING

Paths of the Soul
Director: Yang Zhang
Duration: 118 mins
Rating: PG
Release Date: 19 October, 2017

Docu-drama follows the journey of a group of Tibetans on a pilgrimage to Lasa, the holy capital of Tibet. The journey covers 1,200 km on foot, in a continuous repetition of prostrating one's self on the ground. Over 10 months, we see the simplicity of human relationships and the nature of family, suffering, and resolve.​
Now Showing at
TIMES & TICKETS FOR 'PATHS OF THE SOUL'
There are presently no session times scheduled for this film. Times for new release films are generally available from 12pm on the Tuesday prior to release. Please check back later.