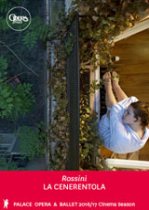 OPéRA NATIONAL DE PARIS
Palace Opera & Ballet presents new-season productions - direct from Paris!
Founded more than three centuries ago by Louis XIV, Opéra national de Paris is one of the world's greatest opera and ballet companies. Under the new directorship of Stéphane Lissner, the company holds performances in two theatres, the Palais Garnier (1875) and L'Opéra Bastille (1989) and remains commited to preserving and developing our operatic and ballet heritage, holding more than 350 performances per year. The current musical director is eminent conductor Philippe Jordan. Great composers such as Rameau, Gluck, Rossini, Verdi, Wagner, Gounod, Massenet, Poulenc and Messiaen all gave the first performances of their works here.
The birthplace of classical dance, the Paris Opéra Ballet stages some 180 performances per season in Paris, the French regions and abroad. Over the years it has played host to many of the world's greatest choreographers: George Balanchine, Serge Lifar, Rudolf Nureyev, Roland Petit, Maurice Béjart, and of course Pina Bausch. The 2016/17 Season is former Étoile Aurélie Dupont's first as Director of Dance.
Discover the full season, and register for email updates at: www.PalaceOperaAndBallet.com.au
UPCOMING OPÉRA NATIONAL DE PARIS PRODUCTIONS