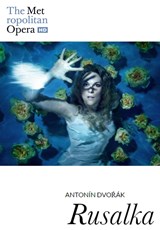 NOW SHOWING

New York Met Opera: RUSALKA
Language: Sung in Czech with Met Titles in English
Rating: CTC
Release Date: 22 April, 2017

Limited Season - April 22, 23, 25 & 26
More New York Metropolitan Opera Season
Kristine Opolais stars in a new production of the opera that first won her international acclaim, Dvořák's fairy-tale opera about the tragic water nymph Rusalka.
Sir Mark Elder conducts Mary Zimmerman's new staging, which also stars Brandon Jovanovich as the human prince who captures Rusalka's heart; Katarina Dalayman as Rusalka's rival, the Foreign Princess; Eric Owens as the Water Sprite, Rusalka's father; and Jamie Barton as the duplicitous witch Ježibaba.
Conductor: Sir Mark Elder
Production: Mary Zimmerman
Set Designer: Daniel Ostling
Costume Designer: Mara Blumenfeld
Lighting Designer: T.J. Gerckens
Choreographer: Austin McCormick
Cast: Kristine Opolais (Rusalka), Katarina Dalayman (The Foreign Princess), Jamie Barton (Ježibaba), Brandon Jovanovich (The Prince), Eric Owens (The Water Sprite)
Now Showing at
TIMES & TICKETS FOR 'NEW YORK MET OPERA: RUSALKA '
There are presently no session times scheduled for this film. Times for new release films are generally available from 12pm on the Tuesday prior to release. Please check back later.