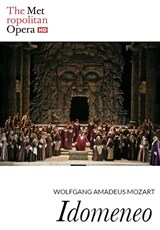 NOW SHOWING

New York Met Opera: IDOMENEO
Language: Sung in Italian with Met Titles in English
Rating: CTC
Release Date: 17 June, 2017

Limited Season - June 17, 18, 20 & 21
More New York Metropolitan Opera Season
James Levine conducts a rare Met revival of Mozart's Idomeneo, set in the aftermath of the Trojan War.
Jean-Pierre Ponnelle's classic production, which has its first Met revival in over a decade this season, stars Matthew Polenzani in the title role. The cast also includes Elza van den Heever as Elettra, Nadine Sierra as Ilia, Alice Coote as Idamante, and Alan Opie as Arbace.
Conductor: James Levine
Production: Jean-Pierre Ponnelle
Set and Costume Designer: Jean-Pierre Ponnelle
Lighting Designer: Gil Wechsler
Cast: Elza van den Heever (Elettra), Nadine Sierra (Ilia), Alice Coote (Idamante), Matthew Polenzani (Idomeneo), Alan Opie (Arbace)
Now Showing at
TIMES & TICKETS FOR 'NEW YORK MET OPERA: IDOMENEO'
There are presently no session times scheduled for this film. Times for new release films are generally available from 12pm on the Tuesday prior to release. Please check back later.