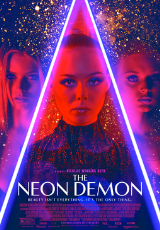 NOW SHOWING

The Neon Demon
Director: Nicolas Winding Refn
Cast: Elle Fanning, Christina Hendricks, Keanu Reeves
Duration: 119 mins
Language: English
Rating: R18+ - High impact sexual themes
Release Date: 20 October, 2016

Co-scripted by playwrights Mary Laws and Polly Stenham, the latest provocation from Nicolas Winding Refn is his first film told from a female point of view. It centres on ravishing young Jesse, a waif-like aspiring model fresh to the meat factory of the LA fashion world – which she immediately sets ablaze, leaving breathless desire and snarling jealousy in her wake. Elle Fanning is luminous as Jesse, with Australians Abbey Lee and Bella Heathcote, as well as Jena Malone Christina Hendricks and Keanu Reeves all compelling in support.
An intoxicating eyegasm to behold, the film draws inspiration from sources as varied as the legends of Narcissus and the Countess Báthory, Italian giallo and Alejandro Jodorowsky, Black Swan and Suspiria, and it absolutely revels in its psychedelic, psychotic excess. Darkly comic at times but always surreally scathing, this is sure to be one of the most spectacular conversation starters.
Now Showing at
"Refn's latest and best, The Neon Demon, is the culmination of his decades-long fascination with human nature in its darkest, most destructive form. It is … a gorgeous, grisly work which holds a (vanity) mirror up to modern society's corroded moral core." – Little White Lies
TIMES & TICKETS FOR 'THE NEON DEMON'
There are presently no session times scheduled for this film. Times for new release films are generally available from 12pm on the Tuesday prior to release. Please check back later.