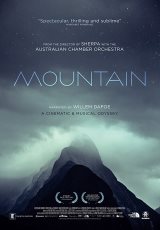 NOW SHOWING

Mountain
Director: Jennifer Peedom
Cast: Willem Dafoe
Duration: 120 mins
Language: English
Rating: CTC
Release Date: 21 September, 2017

An experience about the highest peaks around the world.
Narrated by Willem Dafoe. Follow Mountaineers and the documentary that shows us all about the drive to climb.
Now Showing at
TIMES & TICKETS FOR 'MOUNTAIN'
There are presently no session times scheduled for this film. Times for new release films are generally available from 12pm on the Tuesday prior to release. Please check back later.