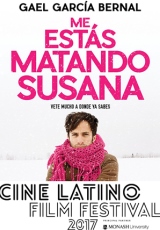 NOW SHOWING
LAT17 You're Killing Me Susana
Director: Roberto Sneider
Cast: Gael García Bernal, Verónica Echegui, Ashley Hinshaw & Björn Hlynur Haraldsson
Duration: 102 mins
Rating: 18+
Release Date: 16 November, 2017

Based on the 1982 novel Ciudades Desiertas (Deserted Cities) by Mexican writer José Agustín, You're Killing Me Susana tells the story of Eligio (the irrepressible Gael García Bernal), a man who wakes up one day to find out that his wife, Susana (Verónica Echegui), has left him without warning.
What follows is Eligio's earnest quest to win his wife back by following her into the United States where he must navigate cross-cultural differences and come to terms with his own chauvinistic masculinity. While Eligio is certainly presented as a caricature of macho insufferability, his wife Susana is not much better – both are equally self-obsessed to the point of interpersonal destruction.
You Are Killing Me Susana is a test of marital tensions and an exposé on the capacity for people to hurt the ones they love the most.
Now Showing at
NOMINATED: Golden Ariel (Best Picture), Silver Ariel (Best Actor, Best Direction, Best Sound), Ariel Awards 2017
OFFICIAL SELECTION: Zurich Film Festival 2016, Chicago Intl Film Festival 2016, Guadalajara Intl Film Festival 2016
"One of the purest love stories to come along in years." – Chicago Tribune
TIMES & TICKETS FOR 'LAT17 YOU'RE KILLING ME SUSANA'
There are presently no session times scheduled for this film. Times for new release films are generally available from 12pm on the Tuesday prior to release. Please check back later.