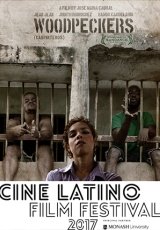 NOW SHOWING
LAT17 Woodpeckers
Director: José María Cabral
Cast: Jean Jean, Ramón Emilio Candelario, Judith Rodriguez Perez & Fernando Rodriguez de Jesús Mejía
Duration: 106 mins
Rating: 18+
Release Date: 16 November, 2017

Partially inspired true events, Woodpeckers is an impossible, intriguing and energetic love story centred on two inmates who communicate with sign language between their respective male and female prisons.
Julián (Jean Jean) is a petty thief who finds himself in the overcrowded Najayo men's prison after being caught stealing a motorcycle. As he adjusts to his new surroundings, he learns to manipulate the prison system to his own advantage.
Against the odds, Julián enters into an unlikely romance with Yanelly (Judith Rodriguez), who is herself confined to the Najayo women's prison next door. In order to communicate, they must learn an elaborate form of sign language, known as woodpecking, right under the noses of the prison guards.
The film was shot on location using actual prisoners as extras whose prison-specific jargon adds a certain layer of authenticity. A tale of hope in a desperate situation, this is a surprisingly delicate yet high-octane drama bursting with raw intrigue.
Now Showing at

WINNER: Special Jury Award, Best Actor and FEISAL Award, Guadalajara Intl Film Festival 2017
NOMINATED: Grand Jury Prize (World Cinema), Sundance Film Festival 2017
TIMES & TICKETS FOR 'LAT17 WOODPECKERS'
There are presently no session times scheduled for this film. Times for new release films are generally available from 12pm on the Tuesday prior to release. Please check back later.