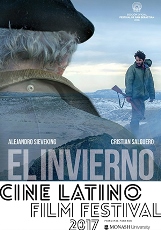 NOW SHOWING
LAT17 Winter
Director: Emiliano Torres
Cast: Cristian Salguero, Alejandro Sieveking & Adrián Fondari
Duration: 95 mins
Rating: 18+
Release Date: 16 November, 2017

This icy western marks the directorial debut feature of Emiliano Torres who substitutes the American frontier for the breathtaking wilds of rural Patagonia, and recounts a time-honoured allegory about an old foreman realising his days are numbered.
One ill-fated winter, Evans (Alejandro Sieveking) comes face to face with his ultimate destiny when a new, highly-skilled worker, Jara (Cristian Salguero), comes to the estate and begins to take over many of his duties. Evans cannot hope to compete with Jara's youthful exuberance and practical skill so he must choose to surrender his post – or put up one last big fight.
Minimal in dialogue and considered in pace, The Winter offers many existential questions to ponder. This is a story of old and new, of change, and of transition between generations. It is an ode to the human condition set against stunning, snowy landscapes. But, most of all, it's a story of survival in an unforgiving land, with uncompromising people, against the tide of inevitable progress.
Now Showing at
WINNER: Best Actor, Best Film, Biarritz Intl. Festival of Latin American Cinema 2016
WINNER: Best Cinematography, Special Jury Prize, San Sebastian Intl Film Festival 2016
WINNER: Silver Condor Award (Best Film, Best Editing), Argentinean Film Critics' Association Awards 2017
WINNER: Ibero-American Competition, Seattle Intl Film Festival 2017
TIMES & TICKETS FOR 'LAT17 WINTER'
There are presently no session times scheduled for this film. Times for new release films are generally available from 12pm on the Tuesday prior to release. Please check back later.